Meet Richard and Recky, the brains behind prompt-it
®
Teleprompters
Richard and Recky have been working in the digital video industry since 2003, when they created a successful production company, Digital Video Experts.
One day, Digital Video Experts needed a teleprompter
Richard and Recky looked around to buy one and were shocked at the price of over one thousand dollars for a teleprompter. They ended up purchasing one costing AUD$1800. It was clumsy, heavy and took 45 minutes to assemble the first time – with no instructions included.
"I can tell you it was used twice before it was stored and never saw the light of day again", explains Richard. "It was expensive and useless!"
So Richard and Recky built one themselves. It had to be light, portable, easy to set up and, most importantly, affordable.
The concept and evolution of prompt-it
®
In 2009, prompt-it® was born. The original was invented to be compatible with mobile phones and called prompt-it® mini. The design was successful and hit all the marks. Setup was a breeze! With no tools required, it only took two minutes to assemble. It was lightweight, portable and affordable!
"Keeping a design simple is not easy. In fact, simple is harder to create because we had to really think outside the square to tick all the boxes," explains Recky.
After the introduction of the iPad, prompt-it® mini was redesigned to the new dimensions of the tablet while adhering to the same principles that made the original design successful. This new design was called prompt-it® maxi. Within weeks of launching the prompt-it® maxi, hundreds were sold. It was an instant hit with professionals as well as amateurs and hobbyists. At its low price point, it was a winner!
Since the launch, prompt-it® has been committed to continuously develop and refine the prompt-it® maxi design. This is one of the many elements that make prompt-it® a success. That and the innovative, yet simple, design, along with the affordability factor has kept it a favourite amongst industry professionals.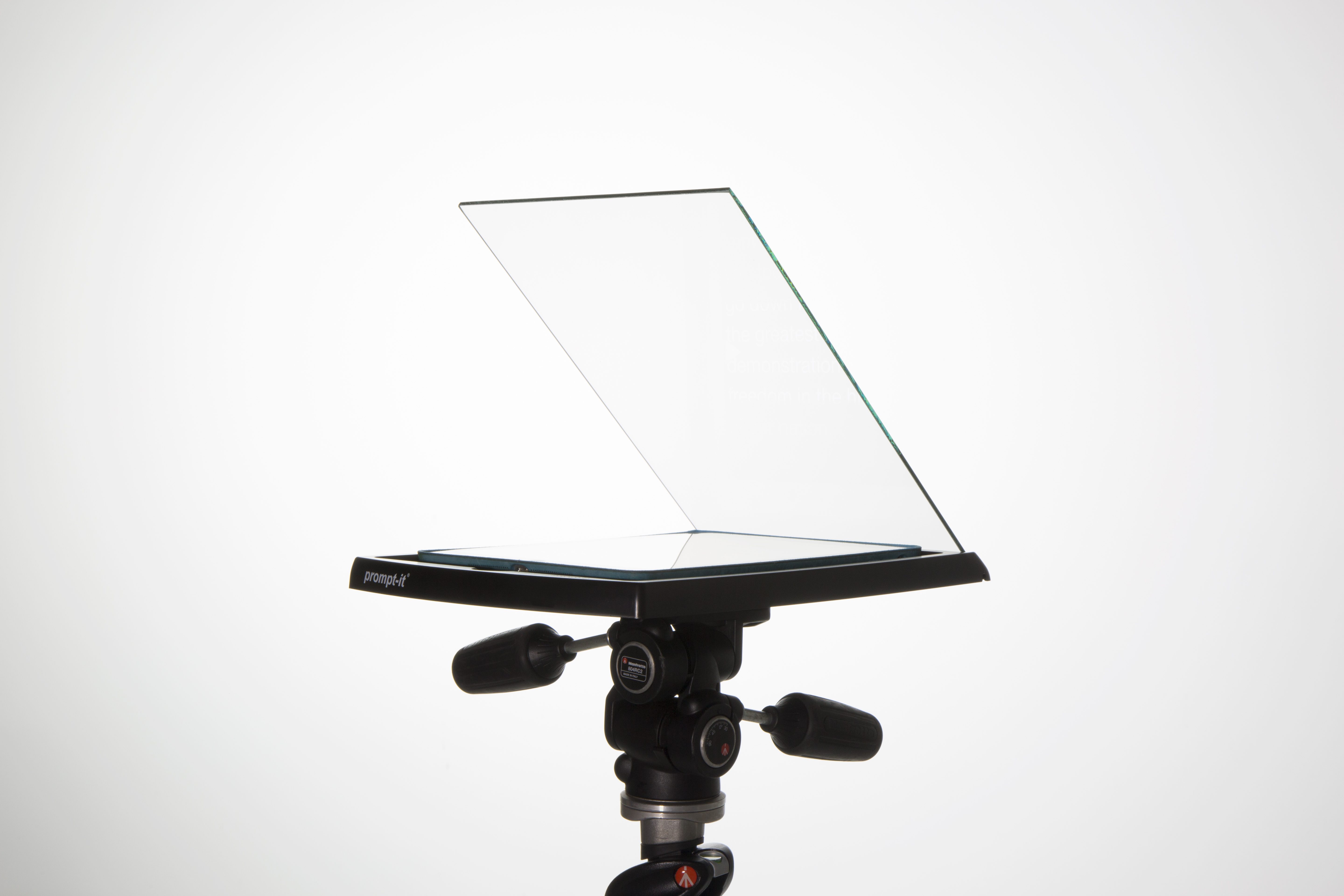 The birth of  prompt-it
®

FLEX – a world first in teleprompters

On Tuesday 15th September 2020, after having delayed for 3 months due to COVID-19, Kickstarter saw the launch of another world innovation. Recky & Richard created a 2-in-1 teleprompter, called the Prompt-it® FLEX, which can be configured for the use with a camera as well as in front of an audience.

This brand new teleprompter will no doubt generate a lot of hype in the world of presenting, with its unique, elegant and simple design. The Prompt-it® FLEX can be setup in under 2 minutes, in either configuration, with no tools.